Monthly Drink
On the 2nd Wednesday of every month, Squadra Veloce members head to de Cyklist, our lovely sponsor café for a drink. In addition to the great vibe, our members also get a discount whenever they visit here!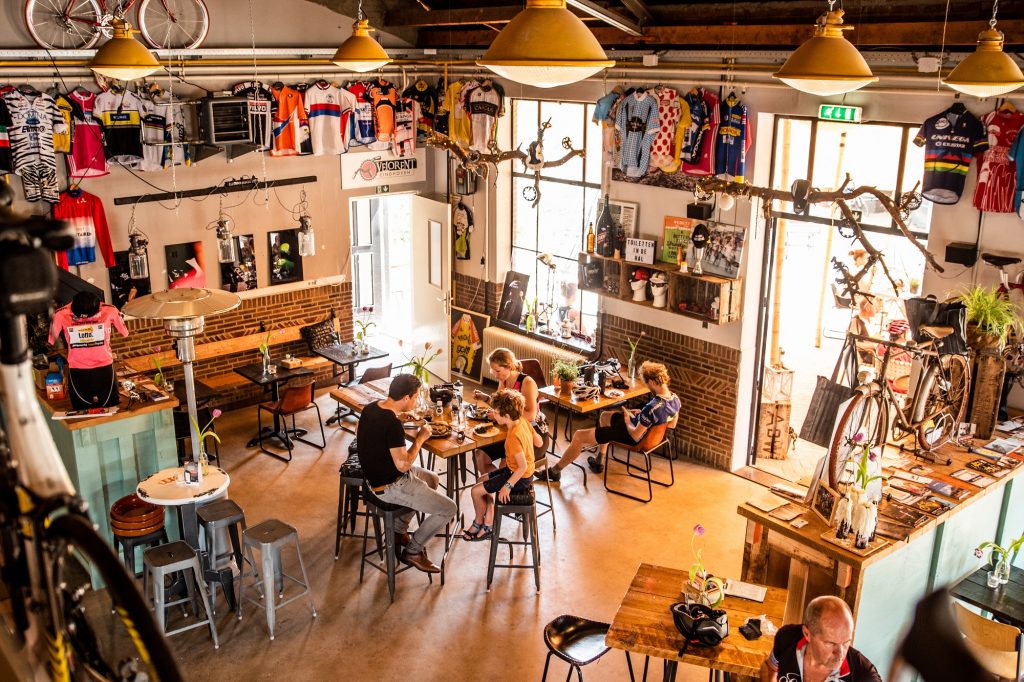 Spain Training Camp
To ensure we enter the new season with strong legs and aesthetic tan lines, we head to Spain during the carnival holiday in February every year. We cycle in groups of varying levels to make up the much needed kilometres and soak up the Spanish sun while enjoying the views from the mountains!
Track Cycling Clinic
Ever wondered what it's like to reach breakneck speeds on an indoor velodrome? Get your adrenaline fix at the track clinic! Every year we head to the Amsterdam velodrome for a clinic with fixed gear bikes. No brakes, fast bikes and a drink to top it off!
Mountain Bike Clinic
Squadra has a growing group of enthusiastic off-road athletes too! To cater to this group, we organise mountain bike clinics that not just perfect for beginners, but also excellent learning opportunities for the experienced cyclists amongst us. The many mountain bike routes around Eindhoven make for perfect locations every time!
Member's Weekend
In het voorjaar trekt er een flinke delegatie naar de Ardennen/Eifel om daar aan de klimbenen te werken. Na epische slooproutes wordt er 's avonds relaxed genoten van enkele perlenbachers.
Intro Weekend
After all the intro-week chaos is over and our new members are getting active, we organise the intro-weekend! This is the perfect opportunity for the new members to get to know other members without the bikes! Usually deep in the heart of the Ardennes, our old and new Squadran's enjoy a weekend full of fun activities. This is the weekend you do not want to miss!
Oktoberfest
To close off the cycling season in style, Squadrans depart on a true gravel epic, exploring the paths less taken in the Brabant countryside! The evening is topped off with an all-you-can-eat at the Wiro-Wok, to prepare for the inevitable escalation to stratum!
Summer Vacation
During the summer, Squadrans head into the hills again to enjoy a week of cycling before the busy school year begins. You can expect breath-taking views, warm bonfires and relaxing summer evenings. This year we will also see the Tour de France!